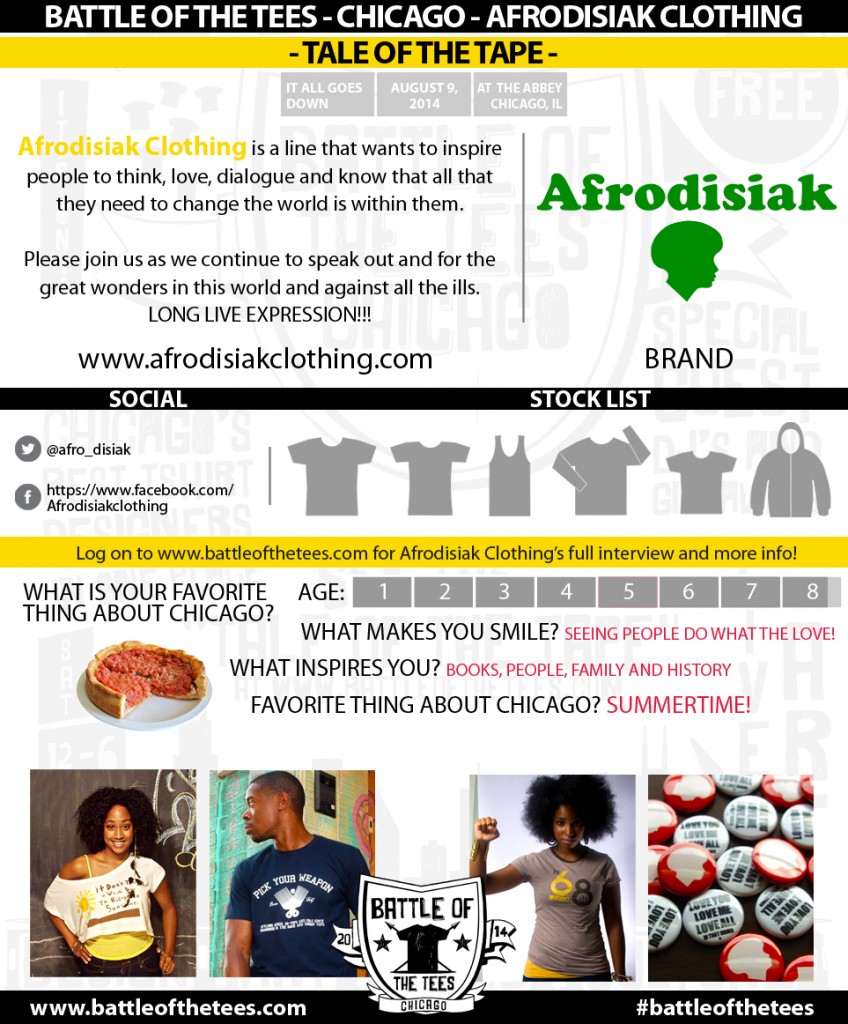 —
Afrodisiak Clothing's Interview with Battle of the Tees – Chicago.
Tell me about your brand. Afrodisiak Clothing is a line that wants to inspire people to think, love, dialogue and know that all that they need to change the world is within them. LONG LIVE EXPRESSION!!!
How long have you been around? We've been around for about 8 years. Although we are all from Chicago area, our brand was originally created in Atlanta, Georgia.
We know all of your designs are your babies, but which ones make you most proud? Yeah, that's a hard question. It goes in phases, right now my favorite is "Remember '68".  It is based on the image of Tommie Smith and John Carlos when they raised their fist in protest against the horrible treatment of African – Americans in the United States, during the 1968 Olympic award ceremony. When I was a little kid the image moved me so much because it was one of the first images I saw that showed true strength, pride and courage..
What separates your line from others? It sounds corny, but it has to be the true love and hope we have for the world and desire to make change through conversations and imagery on tee at a time.

What makes a great design? I am a fan of simple, clean, meaningful and direct design.

When did you first know your line of tees was something special? When we saw people walking around Chicago wearing them and when we started getting calls from people in other states and countries saying, "I just saw someone wearing one of your tees". That's always a great feeling.

How do you feel when people interpret your designs differently? I love it! Our tag line is "What does it mean to you?" Our designs are created to provoke dialogue and thought.  I often have people contact me and tell me what they feel about an image.
PC or Mac? PC's over here! Saying a person who has a Mac must be a great designer, is like saying a person who has never played basketball is going to run the court because he put some Jordan's on! IT'S A SHOE! LOL!
Tea, Hot Chocolate or Coffee? Hot Chocolate! With marshmallows and whipped cream!
What makes you smile? Seeing people accomplish their goals!
Social Media Links:
facebook.com/afrodisiakclothing
Twitter: @afro_disiak
Website: http://shopafro.bigcartel.com