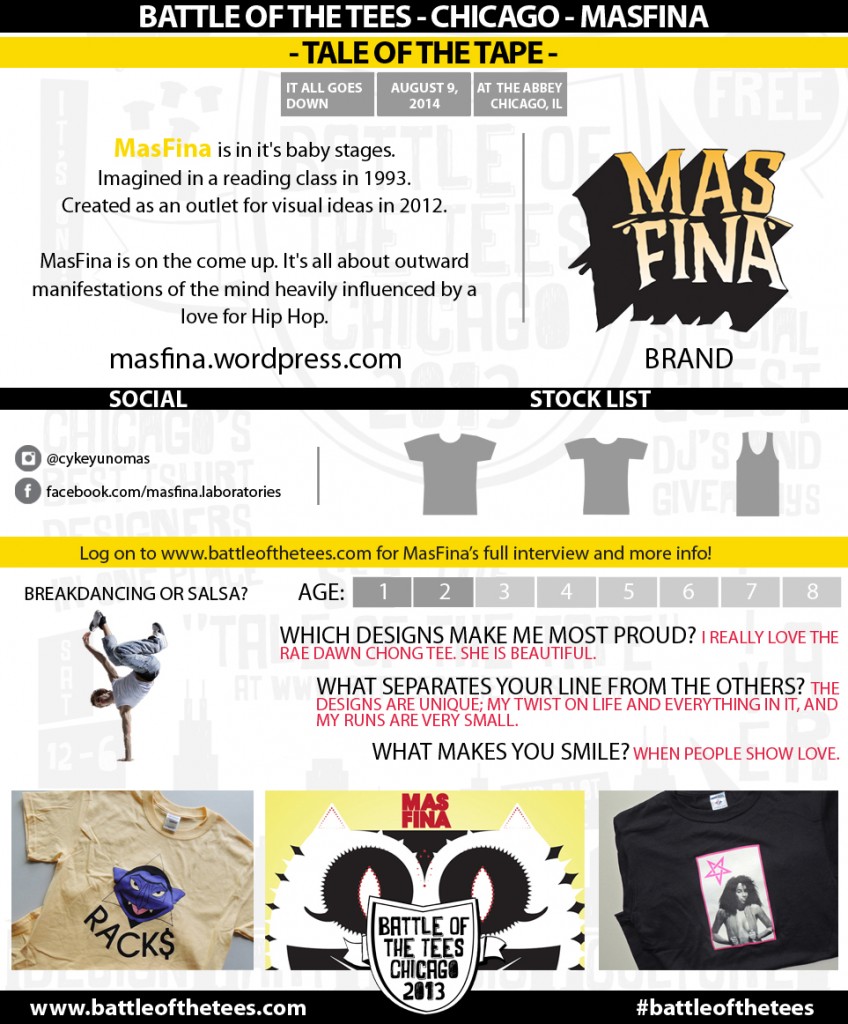 —
Masfina's Interview with Battle of the Tees – Chicago.
How long have you been around? Technically, since 2012.
Tell us a little about yourself. Where are you from in Chicago? I'm just a dude who loves to print and design. I stay in West Lawn.
Which designs make me most proud? I really love the RaeDawnChong Tee. She is beautiful.
What separates your line from the others? The designs are unique; my twist on life and everything in it, and my runs are very small.
What makes a great design? For me, a great design is one that flips an established or popular idea, or one that can make you say "Yeah, I can relate."
What makes you smile? When people show love.
What irritates you to know end? The phoniness of T.V. and mass media and apathy.
What musician/band get you up and dancing? Always Michael Jackson.
Who is your favorite artist? Pushead
What inspires you? Music, girls, streets, old shit, religious iconography, sacred geometry, weed, etc…
What types of movies do you enjoy the most? Favorite movie? Pee Wee's Big Adventure is my favorite movie. I love movies.
What is your favorite thing about Chicago? That people who live in Chicago rep Chicago hard!!!
Social Media Links:
masfina.wordpress.com
facebook.com/masfina.laboratories
Instagram: @cykeyunomas