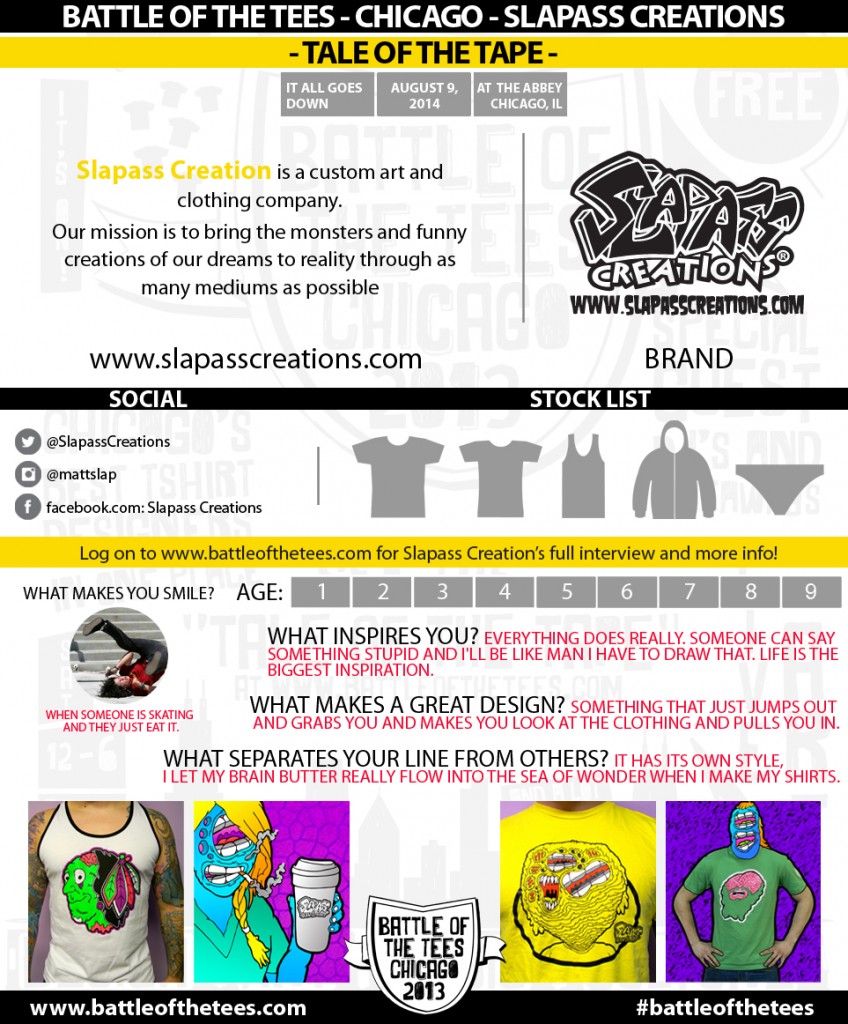 —
Slapass Creations' Interview with Battle of the Tees – Chicago.
Tell me about your brand? We are a Art/Clothing company. We make shirts, hoodies, panties for the ladies, Painting, Prints, Skateboards and other goodies!
How long have you been around? I started making my first Slapass Creations Shirts is 2005.
Tell us a little about yourself. Where are you from in Chicago? I'm a artist from the Northwest Suburbs from a town called Island Lake. I love monsters, Cartoons and Lots of Metal, haha!
What separates your line from others? It has its own style, I let my Brain Butter really flow into the sea of Wonder when I make my shirts and what not.
What makes a great design?  Something that just jumps out and grabs you and makes you look at the clothing and pulls you in.
How do you feel when people interpret your designs differently?  I think it is great! That's the great thing about art, everyone has a different take on what you make and everyone takes something different from your work.
PC or Mac? Mac hands down!
What makes you smile? Anything that most people think is stupid, I love cartoons and when people get hurt, like if someone trips and falls flat on they're face, or someone is skating and they just eat it.
Who is your favorite artist? Skinner, Check out www.theartofskinner.com  that guy just kills it.
What inspires you? Everything does really. Someone can say something stupid and I'll be like man I have to draw that. Life is the biggest inspiration.
Social Media Links:
www.slapasscreations.com   
www.etsy.com/shop/slapasscreations
Facebook: Slapass Creations
Instagram: @mattslap
Twitter : @SlapassCreations