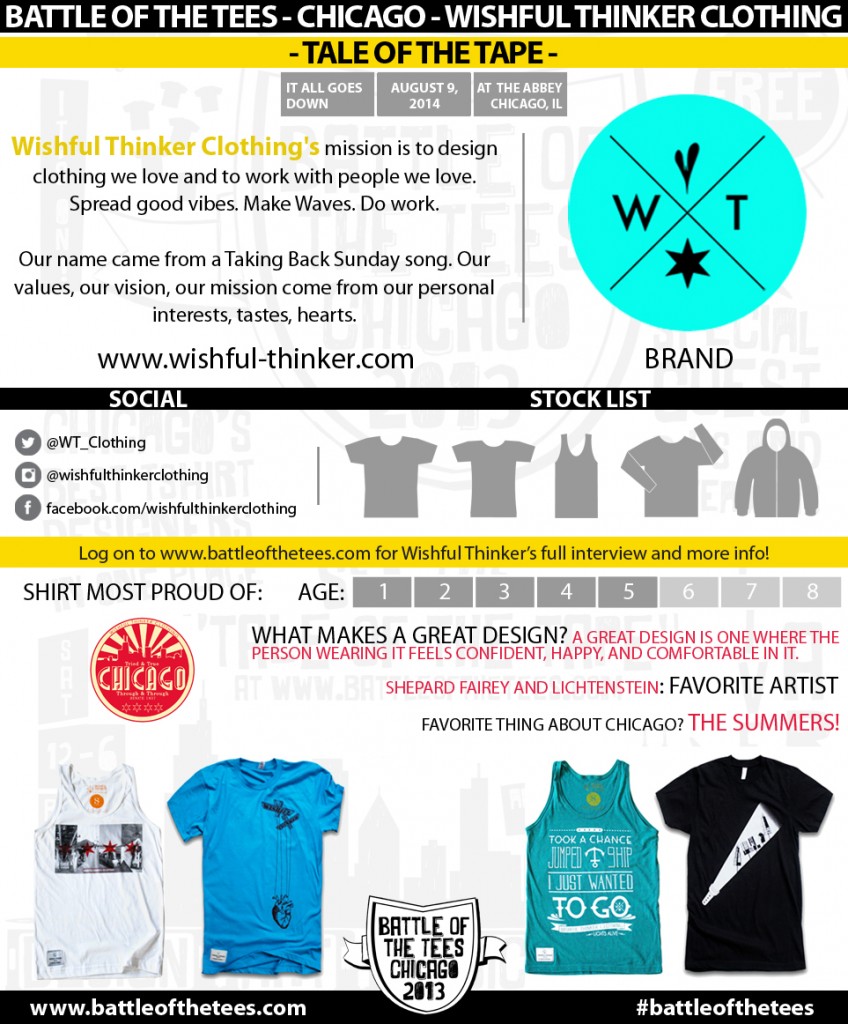 —
Wishful Thinker's Interview with Battle of the Tees – Chicago.
How long have you been around? At the end of August, we will make 4 years.
Tell us a little about yourself. Where are you from in Chicago? I am originally from Hawaii and the guys are originally from Ghana. Charles and I both live in Lakeview. I've been in Chicago for 7 years now.

We know all of your shirts are your babies, but which ones make you most proud? I am probably the most proud of round Chicago emblem shirt. It blatantly tells you Chicago from the words to the skyline. But it's not touristy. My goal is to make as many Chicago related tees as I can without them coming off as touristy.  In my opinion, there aren't enough Chicago shirts that aren't directly related to a sports team or venue of some sort. In Hawaii, there is absolutely no shortage of Hawaii pride shirts. Why don't we have more of that in other cities? Why don't we have more of that in Chicago, specifically?
What separates your line from others?I love this question, because it's so hard to answer! Honestly, I believe it's just style. I design whatever I'm feeling at the time. And through the years, you will see my designs progress and styles change. The brand is growing with me and my taste. I don't and most likely won't ever just slap some fonts together. I believe you can see the difference in the work and concepts. And if you can't, that's okay, too.
What makes great design? A great design is one where the person wearing it feels confident, happy, and comfortable in it. I don't think anything else really matters. We all have different tastes. That doesn't make person's shirt better than someone else's. If you feel good about your shirt, then great! Everyone should feel great about whatever they're wearing.
When did you first know your line of tees was something special?  I first knew my line was special when strangers commented on them and bought them.  Sometimes it's really difficult to figure out if what you're doing is really great outside of your support system. Even if you believe in your heart of hearts that you're doing something great, recognition by others is a nice boost to your self-esteem. I'd wear a shirt out, and someone would say they liked it. I'd spot strangers on the train or around town sporting MY design, and I'd know I'm doing something right.
Who is your favorite artist? I really love Shepard Fairey. I love his ability to lay out and position his art so it is always clean, always elaborate. I also love Lichtenstein. His work boggles my mind.
What makes you smile? I love anchors. I also love what they represent. What irritates me is when other people somehow get it wrong. You shouldn't have an anchor with the words "refuse to sink" together. They are polar opposites.
What inspires you? Johnny Cupcakes inspires me. He worked hard to get where he is now. A lot of people still have no idea who he is.  And that's okay. Because his fan base is probably one of the best for any brand. That's where I want to be.
What is your favorite thing about Chicago? My favorite thing about Chicago is summer. I love the ability to get up and go to a movie in the park, live music in Millennium Park, sing some pop punk with strangers in a bar on a random Friday night, dance at a club, hang out on a rooftop, grab fresh veggies at a farmer's market, wander around the zoo, skateboard by the lake, and a million other things. The possibilities are endless, regardless if I take advantage of all of them or not. That makes Chicago summers so spectacular.
Social Media Links:
www.wishful-thinker.com
facebook.com/wishfulthinkerclothing
Instagram: @wishfulthinkerclothing
Twitter: @WT_Clothing
Tumblr: wishfulthinkerclothing.tumblr.com/
YouTube: musikjunkie11